Reading Time:
7
minutes
Nowruz is a celebration that marks the beginning of spring and a new year, according to the Persian solar calendar. The term "Nowruz" (نوروز) comes from Persian and translates literally to "new day". Although the festival has its roots in Iranian and Zoroastrian cultures, over the years, it has been celebrated by communities in the Balkans, the Black Sea Basin, the Caucasus, Central Asia, the Middle East and South Asia as a secular holiday.
Nowruz is marked at the precise moment of the Spring equinox (between the 20th and the 21st of March) in the northern hemisphere and across the various time zones. This year, Nowruz falls on Monday, March 20th, 2023 at 22:25 CET | 17:25 EST | 14:25 PST.
This blog explores the significance of Nowruz to individuals and communities that have faced displacement over the years. It delves into rituals, food and memories that are kept alive despite turmoil, separation, perilous journeys and novel circumstances. It also looks at aspects of Nowruz celebrations that have evolved with time. In our exploration, we are joined by six Language Partners at NaTakallam who celebrate Nowruz and have experienced displacement. 
Nowruz, a celebration of nature in spring

"Nowruz is a celebration of a new day and a new life", reflects Sayed Nabi, an Afghan Language Partner at NaTakallam, as he fondly recollects celebrating the festival out in parks with family and friends as a child while growing up in Afghanistan. 
Nowruz marks the renewal of life in nature during spring. Parks, the countryside and forests have a special place in Nowruz festivities. Families join friends and neighbors outdoors particularly, on the ultimate day of Nowruz celebrations called "Sizdah Bedar" (سیزده بدر, lit. 'the thirteenth outdoors') to reconnect with nature and imbibe its renewed vigor.
Marwan, a Kurdish Language Partner with NaTakallam, shares his memories of celebrating Nowruz in nature with family and friends. He recounts, "while adults were on the green meadows singing folk songs, accompanied by the strumming of a tembûr player, and dancing in big circles, children played hide and seek or waited for their turn to get in on a small rust-covered so-called ferris wheel." Similarly, a Kurdish Language Partner from Syria (who would like to remain anonymous) reminisces waking up at 5 A.M. to prepare to travel to the countryside, wearing traditional Kurdish clothes where they sang, danced and watched speeches and plays late into the night.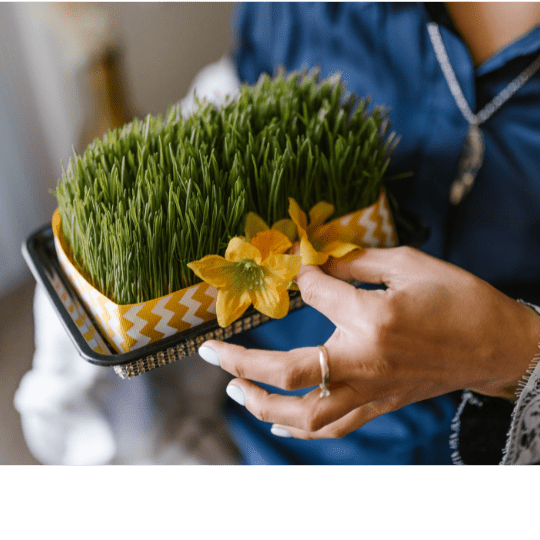 An Iranian Language Partner with NaTakallam (who, also, would prefer to remain anonymous) points out that although the refugee/migrant-experience(s) have curbed traditional Nowruz celebrations, being out in nature is still central to their family's observance of the festival: "On the last day of festivities i.e., on Sizdah Bedar (getting rid of thirteen or the thirteenth out of the doors), all of the family spend the day in the open fields, parks or riversides to picnic; playing games, making music and dancing, taking with them the Sabzeh (سبزه, sprouts) to give it back to nature by throwing it into the river."
Nowruz preparations and the Haft-Seen table

Nowruz celebrations and preparations for it can span days. As the aforementioned Iranian Language Partner relates, it usually begins with, "a scrupulous cleaning of the house and growing Sabzeh (sprouted wheat, barley or lentils) in a dish". 
Sadiqa Sultani, an Afghan Language Partner with NaTakallam, shares: "My family and I started our preparation for the festivities weeks beforehand. We clean our homes from top to bottom, including carpets, windows and curtains. Everyone in the family helps out. Anything broken is repaired or replaced and the house is decorated with flowers. By doing this spring cleaning, we wash away the bad things from the previous year and prepare for better things to come in the new year."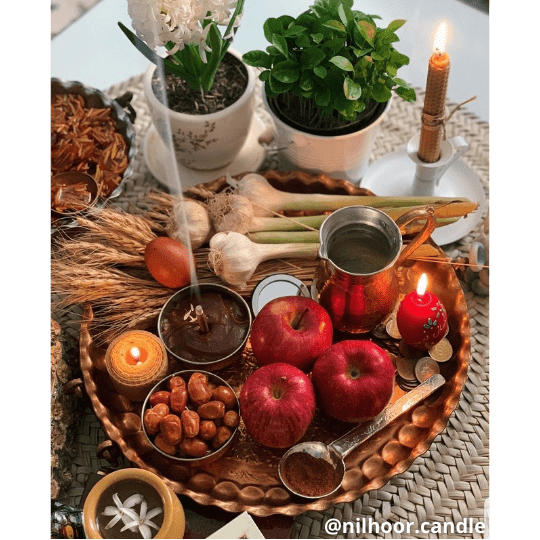 Apart from cleaning, preparing food particularly, the Haft-Seen (هفت سین, seven Ss) table spread for the night of Nowruz is a key component of the celebrations. Sadiqa describes her family's Haft-Seen table as follows:
"We prepare a special table in our homes, where we place small dishes holding seven symbolic foods and spices. The names of these foods all start with the letter 's' (س) in Persian and so the table is called the 'seven s's' (Haft-Seen). The dishes generally contain wheat or bean sprouts (sabzeh), vinegar (serke), apples (sib), garlic (sir), a wheat-based pudding called samanu, a red spice called sumac, and senjed, a kind of wild fruit which is common in the region. Other symbolic objects can include goldfish, painted eggs, candles and a mirror. The seven s's symbolize life, love, health and prosperity."
Alongside the delicacies on the Haft-Seen table, a variety of other dishes are prepared and enjoyed over the days of Nowruz celebrations. Leila Eftetahi, an Iranian Language Partner with NaTakallam, shares that her favorite dish to have on Nowruz is Sabzipolo ba Mahi (سبزی پلو با ماهی, herbed rice and fish). The Kurdish Language Partner (who would like to remain anonymous) shares that Mahshi is a popular dish enjoyed during Nowruz, mainly among Iraqi-Kurdish communities. Sadiqa tells us that her favourite Nowruz food item is Samanu (سمنو), "a sweet paste made entirely from germinated wheat, which is prepared especially for Nowruz in a large pot."
Nowruz and the refugee/migrant experience(s)

Nowruz celebrations among communities affected by conflict and displacement have an added meaning today. It celebrates resilience – of nature and human beings. 
The aforementioned Iranian Language Partner shares "the usual family links and networks do not exist anymore for many exiles or immigrants…In spite of these and other obstacles, Iranians who live abroad try to observe Nowruz traditions and rituals." These sentiments are echoed by Sadiqa, when she says: "living as refugees, not having access to basic rights and having very few facilities, people prepare a small table just to celebrate the Nowruz with their family. Something that hasn't changed is the way and reason for celebrating Nowruz. People spread love and happiness as much as they can.''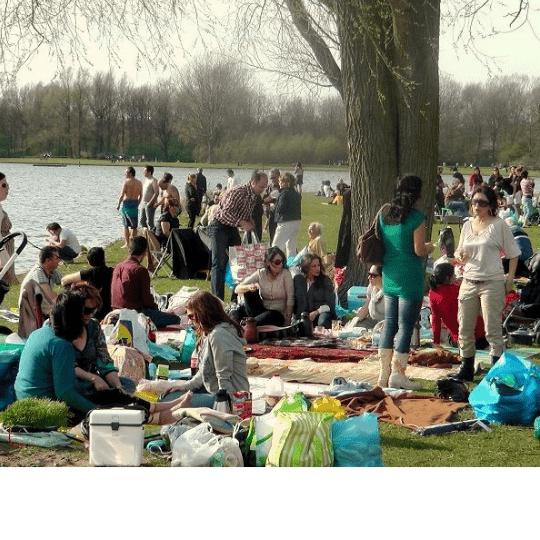 Sharing happiness and keeping alive memories of "cozy fellowship" has been an important part of Marwan's recent Nowruz celebrations. He reveals that he is looking forward to celebrating Nowruz with his small family "outdoors in a nearby playground and then, indoors  dining locally, listening to Kurdish songs in Kurdish-hyggelig ambiance." Leila, similarly, shares that she has never forgotten the excitement of getting to pick the tablecloth for the Haft-Seen table as a child. She honors this memory by continuing to pick a tablecloth for the Haft-Seen table as a tradition even after being away from home for the last 7 years. 
Nowruz is a celebration of nature and new beginnings. Over the years, it has also come to commemorate human resilience and the quest for fellowship and happiness even in the face of adversity and displacement. 
Happy first day of Spring to our language partners, language learners, friends and supporters, and all those celebrating, Saal-e no mobarak (سال نو مبارک) , Newroza te pîroz be, Happy Nowruz! 
Fascinated by Nowruz? Learn more about Persian, Kurdish and Afghan cultures, traditions and languages with NaTakallam's native tutors. Sign up here, today! 
Learn a language, make a friend, change a life. 

CREDITS
– Copywriting: Maria Thomas is a copywriter with NaTakallam. She is currently pursuing her doctoral studies in art history. In her spare time, she enjoys reading, powerlifting and going on hikes.
– Copyediting: Lucy Davis is a Communications and PR Officer with NaTakallam. She is currently pursuing a dual Bachelor's degree in economics and literature. She loves cooking, doing puzzles, and traveling to new places.
– Content support 1: Leila Eftetahi is an Iranian Language Partner with NaTakallam teaching Persian – Farsi dialect. She has degrees in Computer Science and International Tourism, and has been working as a Community Engagement Specialist. Leila enjoys performing, watching movies and reading in her free time.
– Content support 2: Sadiqa Sultani is an Afghan Language Partner with NaTakallam teaching Persian – Dari dialect. She is an active volunteer at her local Refugee Learning Centre and in the refugee community. She loves sharing her culture and in her free time, she enjoys spending time with family and writing in her journal.
– Content support 3: Sayed Nabi is an Afghan Language Partner with NaTakallam teaching Persian – Farsi and Dari dialects. He studied French language and literature and worked as an interpreter & translator with ISAF/NATO and AFRANE. He loves Persian poetry, is interested in cultural exchange, and eager to share his experiences with students.
– Content support 4: Marwan Sheikho is Syrian Language Partner with NaTakallam specializing in Kurdish – Kurmanji dialect. He studied the development of Kurdish Kurmanji in Turkey and Syria for his Master's degree in Germany. He enjoys learning languages, photography and preparing Kurdish language learning material for kids.
– And TWO OTHER content supporters who would like to remain anonymous.