Reading Time:
6
minutes
This holiday season, spread love and stand out from the crowd with meaningful gifts that help transcend borders and offer your loved ones a tangible experience of the world from the comforts of home. Go the extra mile (without breaking the bank) by choosing gifts that speak to their senses, curiosity and wanderlust. Whether you are looking for presents for a budding homecook, an avid traveller, or a culture aficionado, here are some ideas to create memorable gift experiences.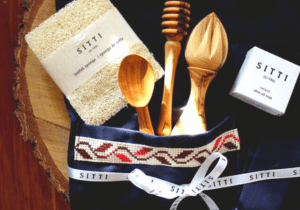 1. Kitchen Gift Set | Sitti x Darzah (US$70)
This embroidered apron and olivewood utensils set is an ideal gift for a treasured homecook. It brings together centuries-old Palestinian artitistic traditions of tatreez (تطريز) or embroidery, handed down from mother to daughter, and of olivewood carving, documented as a speciality of the region in travelogues and historical documents from as early as the 16th century. While the apron in this gift set is hand-embroidered by women artisans in Bethlehem with a traditional red tatreez olive branch motif, the utensils are crafted from sustainably-sourced olive wood in Palestine.
This kitchen set is a perfect gift for a seasoned chef, aspiring cook, or somebody who needs an extra push to try new recipes and travel through culture and cuisine – Palestinian or another.
Sitti ships worldwide. Shipping rates and times will vary according to items, courier and location. Free shipping is offered to orders made within Canada and the USA.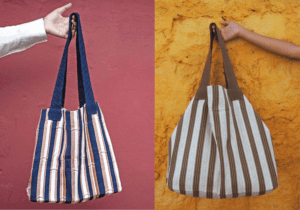 2. Tote Bag, Cojolya | Amano Marketplace (US$57-62)
Made by a Tz'utujil Maya masterweaver in Guatemala using traditional Mayan techniques, this tote bag from Cojolya is an elegant amalgamation of style and sustainability. Cojolya is a certified fair trade organization that is dedicated to the conservation of traditional Mayan techniques, not as historical relics, but as economically viable sources of employment for the women weavers associated with them.
This makes a great option for the culturally curious who would get a glimpse of Latin American culture through this tote bag, handmade with love and packed with history.
Amano Marketplace ships worldwide. Shipping rates and times will vary according to items, courier and location. Free U.S. shipping for orders over US$175.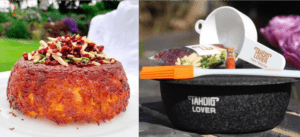 3. Tahdiglover pot | Tahdiglover (Starts from £12.99)
Share the joys of a perfectly crispy and scrumptious tahdig with a fellow Persian-food lover with this Tahdiglover pot. Traditionally made of rice, tahdig (ته دیگ) which literally translates to "bottom of the pot", is considered a Persian "soul food". Tahdiglover pot ensures that you always get this dish right! It is a woman-owned business working with other small businesses in Iran and the UK to help young people showcase their cooking talent and to make Persian and Middle Eastern cooking more accessible and enjoyable.
The Tahdiglover pot is a creative gift for anyone keen on mastering their Tahdig skills, taking up the challenge of cooking a new cuisine, or accessing new worlds through food and culture.
Tahdiglover ships worldwide from the UK. Shipping rates and times will vary according to items, courier and location.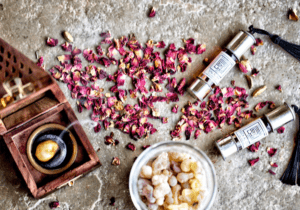 4. Hojari Frankincense from Oman | Pink Jinn (US$55.46)
Dial up warmth and comfort this holiday season with the gift of Omani frankincense from Pink Jinn! Frankincense, an aromatic resin used in incense and perfumes, was traded on the Arabian peninsula and the Horn of Africa for over 5,000 years. Monopoly over frankincense trade is believed to have helped the Nabateans rise to prominence in the 1st century BC. This exquisite gift brings home the intriguing history of frankincense along with an effortless experience of luxury and healing. Pink Jinn's frankincense are sourced from Dhofar in Oman, an historically important site for frankincense production, and comes in an ornate jar along with a pair of tongs and charcoal discs.
The Hojari Frankincense is an exquisite gift that speaks to the senses of the bold, the spiritual, and those interested in new experiences from the comfort of their homes.
Pink Jinn ships worldwide from the UK (via Etsy). Shipping rates and times will vary according to items, courier and location.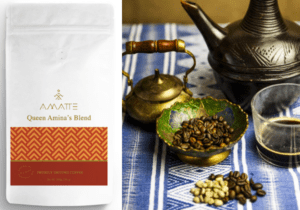 5. Queen Amina's Blend | Amatte Coffee (£8.90)
Gift for a coffee lover AND a history enthusiast? Look no further. Sourced from female farmers in the Sidamo province of southern Ethiopia and from the Democratic Republic of Congo, this naturally processed ground coffee is the holy grail you're seeking! This blend by Amate Coffee has a sweet and smooth taste with notes of orange, apricot, caramel, vanilla and citrus and is named after Queen Amina, the first female leader of the city-state of Zazzu, located in the north-western part of modern Nigeria. The gift receiver is guaranteed an exhilarating journey through time, space and robust tasting notes!
Amatte ships worldwide from the UK. Shipping is £3 within the UK and £15 outside the UK.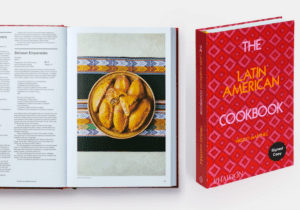 6. The Latin American Cookbook by Chef Virgilio Martinez | Phaidon (€45)
Discover the vibrant flavors, aromas, and ingredients of Latin American cooking with Chef Virgilio Martinez's latest cookbook which celebrates the treasures of Latin American cookery. Replete with six hundred recipes from twenty-two countries, this cookbook will help any Latin America lover reinvigorate memories of food, people and culture from their travels and musings! Holiday gifting done right.
Phaidon ships worldwide from one of their warehouses in the USA, UK, or Australia. Shipping rates and times will vary according to items, courier and location.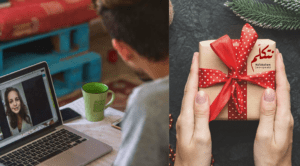 7. Gift of Conversation | NaTakallam (Starts from US$25)
After a year of pandemic and social distancing, what is better this holiday season than connecting to another human being through language? NaTakallam's "Gift of Conversation" is a unique gift that allows individuals to learn a new language or brush up their existing skills from the comforts of their home. What's more? You would be supporting the livelihood of tutors from displaced backgrounds and their host communities. It makes a perfect stocking stuffer for a beloved language-enthusiast looking for a life-changing experience (both theirs and their tutors alike)!
Give the Gift of Conversation to a language lover in your life, near or far. Suitable for all levels and ages, and available in over 15 languages and dialects.
NaTakallam's Gift of Conversation is paperless and shipping-free (i.e it can be "virtually" shipped worldwide).

Still need more inspiration? Check out this impactful gift guide by our friends at Vital Voices, who have partnered with inspiring small women-led businesses this holiday season.
Vital Voices Global Partnership are "venture catalysts" that invest in women leaders and change makers who are solving the world's greatest challenges across 185 countries – from gender-based violence to the climate crisis, economic inequities, and more.